Best 50 Videogames Ever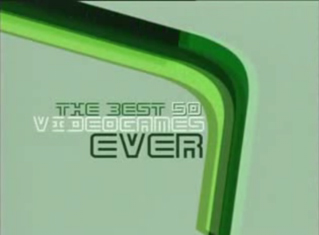 The Best 50 Videogames Ever è un'ora di televisione organizzata e confezionata come se si trattasse di una classifica.
50 differenti videogiochi vengono raccontati, esplorati o semplicemente mostrati nello spazio di un minuto circa ciascuno.

Il periodo di riferimento spazia da quello che viene considerato il primo videogioco della storia ("Space wars", un prototipo costruito per diletto all'interno dei laboratori del MIT nel 1966) alle uscite per il Cube o la Playstation 2, anche se si può ammettere un certo sbilanciamento per quella che viene considerata l'età d'oro dei videogiochi, quella dei primi arcades e delle prime consolles, il quinquennio 80-85.
In alcuni episodi vengono intervistati giornalisti, storici o direttori
di festival sull'argomento. Altrove parla la memoria o l'esperienza dei giocatori. Altrimenti i giochi vengono mostrati o accostati a brevi racconti.
Collezionisti finlandesi di videogiochi si affiancano ad avventori di bar calabresi, curatori di festival londinesi, proprietari di latterie genovesi,tassisti di Atene, belle ragazze di Praga; telefonate da Monaco o da New York raccontano storie inconsuete.
Le riprese sono realizzate con tecniche diverse che miscelano digitale, pellicola e postproduzione. La classifica è un pretesto per avvincere anche se è stata un utile struttura per includere il numero maggiore di piattaforme possibile in cui i videogiochi sono stati concepiti, distribuiti e fruiti.
Questo ha permesso di accostare sullo stesso piano giochi importanti per la loro popolarità a giochi importanti per la loro eccentricità.
The 50 best videgames ever is a one-hour television documentary packaged like a chart.
50 different videogames are retold, re-explored or just simply shown, each one for about a minute.
The timeline starts from what is generally considered the first videogame (Space Wars, a prototype designed just for fun in MIT labs in 1966) andends with the releases for Cube or Playstation 2.
It is safe to say we were very partial to the so called golden age of videogames, the booming arcades, the early consoles, a five year span from 1980 to 1985.
Some episodes feature interviews with journalists, historians, festival directors.
Somewhere else the memory and experience of the Playas takes control.
one other times yet games are a backdrop for quaint morality plays, cautionary tales, horror stories.
Finnish collectors, Calabrese bartenders, Athens cabbies, Filipino maintenance men, a girl from Praha, telephone calls from Munich and Rhode Island, each player spinning in his private orbit.
50 BEST is a blend of Super8, digital and pure postproduction.
The chart is but an alibi but helps tracking all the different platforms games were conceived, produced and played with.
It also allowed us to put on the same level best selling hits and less fortunate games which made history anyway for their outright weirdness.
DIVX DOWLOAD. RIGHT CLICK + SAVE AS
50 mini da 1′ ciascuno, organizzati come una classifica dei 50 migliori videogiochi


60'circa ( https://www.opificiociclope.com/best50.avi )
I 50 VIDEOGIOCHI, ONE BY ONE
Già pretagliati nel nostro canale YouTube
JUST FOR VINTAGE HTML LOVERS
The original mini-site ( https://www.opificiociclope.com/best50.html )
Tags: 2002, Documentari